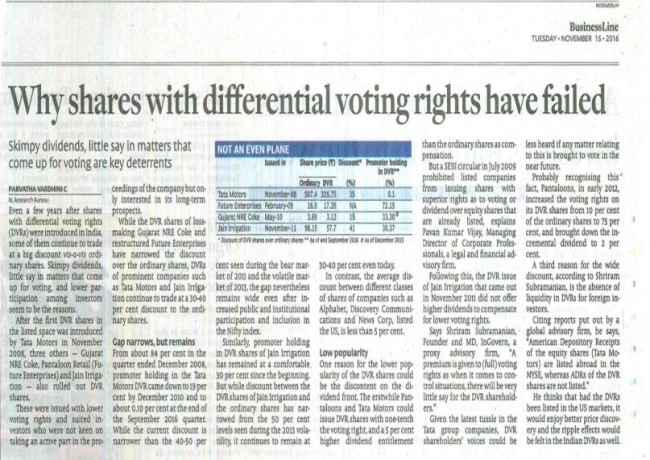 Even a few years after shares with differential voting rights (DVRs) were introduced in India, some of them continue to trade at a big discount vis-a-vis ordinary shares. Skimpy dividends, little say in matters that come up for voting, and lower participation among investors seem to be the reasons.
After the first DVR shares in the listed space was introduced by Tata Motors in November 2008, three others — Gujarat NRE Coke, Pantaloon Retail (Future Enterprises) and Jain Irrigation — also rolled out DVR shares.
These were issued with lower voting rights and suited investors who were not keen on taking an active part in the proceedings of the company but only interested in its long-term prospects.
While the DVR shares of loss-making Gujarat NRE Coke and restructured Future Enterprises have narrowed the discount over the ordinary shares, DVRs of prominent companies such as Tata Motors and Jain Irrigation continue to trade at a 30-40 per cent discount to the ordinary shares.
Gap narrows, but remains
From about 84 per cent in the quarter ended December 2008, promoter holding in the Tata Motors DVR came down to 19 per cent by December 2010 and to about 0.10 per cent at the end of the September 2016 quarter. While the current discount is narrower than the 40-50 per cent seen during the bear market of 2011 and the volatile market of 2013, the gap nevertheless remains wide even after increased public and institutional participation and inclusion in the Nifty index.
Similarly, promoter holding in DVR shares of Jain Irrigation has remained at a comfortable 30 per cent since the beginning. But while discount between the DVR shares of Jain Irrigation and the ordinary shares has narrowed from the 50 per cent levels seen during the 2013 volatility, it continues to remain at 30-40 per cent even today.
In contrast, the average discount between different classes of shares of companies such as Alphabet, Discovery Communications and News Corp, listed the US, is less than 5 per cent.
Low popularity
One reason for the lower popularity of the DVR shares could be the discontent on the dividend front. The erstwhile Pantaloons and Tata Motors could issue DVR shares with one-tenth the voting right, and a 5 per cent higher dividend entitlement than the ordinary shares as compensation.
But a SEBI circular in July 2009 prohibited listed companies from issuing shares with superior rights as to voting or dividend over equity shares that are already listed, explains Pavan Kumar Vijay, Managing Director of Corporate Professionals, a legal and financial advisory firm.
Following this, the DVR issue of Jain Irrigation that came out in November 2011 did not offer higher dividends to compensate for lower voting rights.
Says Shriram Subramanian, Founder and MD, InGovern, a proxy advisory firm, "A premium is given to (full) voting rights as when it comes to control situations, there will be very little say for the DVR shareholders."
Given the latest tussle in the Tata group companies, DVR shareholders' voices could be less heard if any matter relating to this is brought to vote in the near future.
Probably recognising this fact, Pantaloons, in early 2012, increased the voting rights on its DVR shares from 10 per cent of the ordinary shares to 75 per cent, and brought down the incremental dividend to 2 per cent.
A third reason for the wide discount, according to Shriram Subramanian, is the absence of liquidity in DVRs for foreign investors.
Citing reports put out by a global advisory firm, he says, "American Depository Receipts of the equity shares (Tata Motors) are listed abroad in the NYSE, whereas ADRs of the DVR shares are not listed."