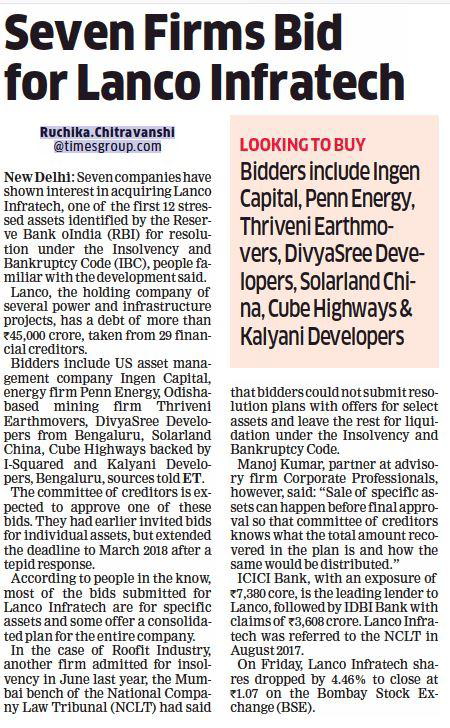 Seven companies have shown interest in acquiring Lanco Infratech, one of the first 12 stressed assets identified by the Reserve Bank for resolution under the Insolvency and Bankruptcy Code, people familiar with the development said. Lanco, holding company of several power and infrastructure projects, has debt of more than Rs 45,000 crore, taken from 29 financial creditors.
Bidders include US asset management company Ingen Capital, energy firm Penn Energy, Odisha-based mining firm Thriveni Earthmovers, DivyaSree Developers from Bengaluru, Solarland China, Cube Highways backed by ISquared and Kalyani Developers, Bengaluru, sources told ET.
The committee of creditors is expected to approve one of these bids. They had earlier invited bids for individual assets, but extended the deadline to March 2018 after tepid response. According to people in the know, most bids for Lanco Infratech are for specific assets and few offer a consolidated plan for the entire company.
In the case of Roofit Industry, another insolvency admission in June last year, the Mumbai bench of National Company Law Tribunal said bidders cannot submit resolution plans with offers for select assets and leave the rest for liquidation under Insolvency and Bankruptcy Code.
On Friday, Lanco Infratech share dropped by 4.46% to close at Rs 1.07 on the Bombay Stock Exchange.