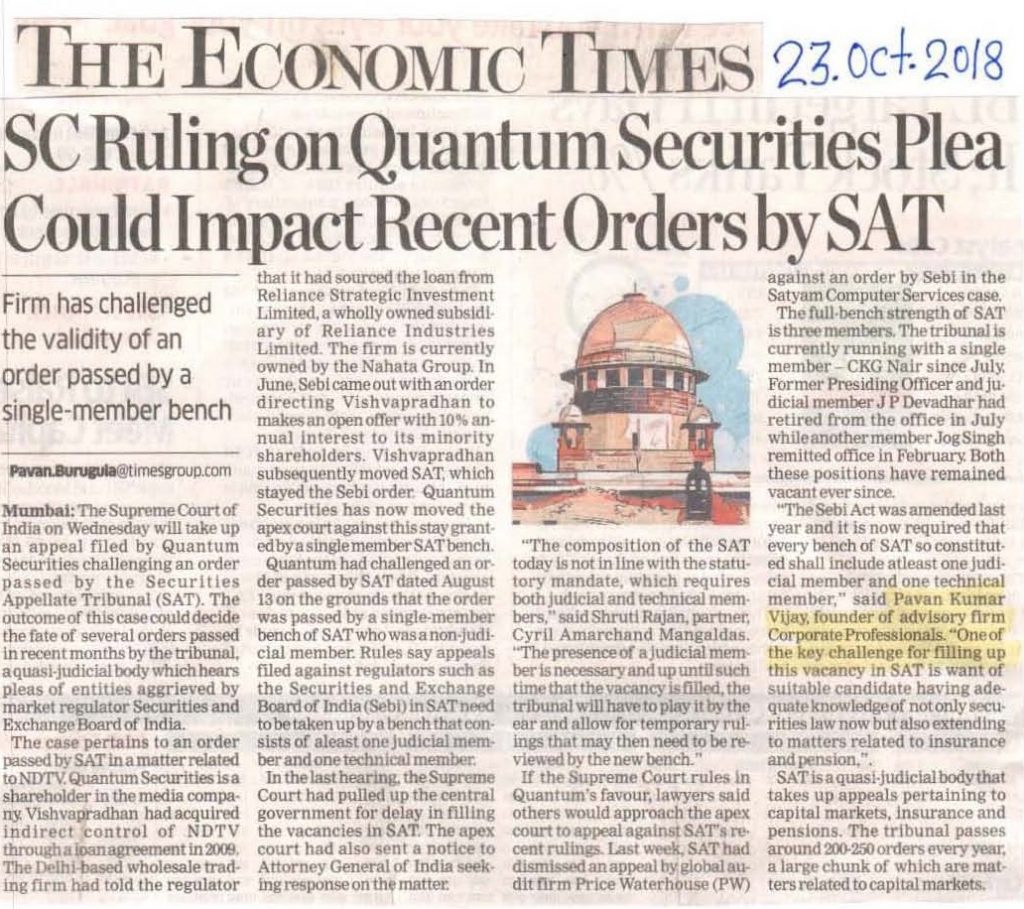 The Supreme Court of India on Wednesday will take up an appeal filed by Quantum Securities challenging an order passed by the Securities Appellate Tribunal (SAT). The outcome of this case could decide the fate of several orders passed in recent months by the tribunal, a quasi-judicial body which hears pleas of entities aggrieved by market regulator Securities and Exchange Board of India.
The case pertains to an order passed by SAT in a matter related to NDTV. Quantum Securities is a shareholder in the media company. Vishvapradhan had acquired indirect control of NDTV through a loan agreement in 2009. The Delhi-based wholesale trading firm had told the regulator that it had sourced the loan from Reliance Strategic Investment Limited, a wholly owned subsidiary of Reliance Industries Limited. The firm is currently owned by the Nahata Group. In June, Sebi came out with an order directing Vishvapradhan to makes an open offer with 10 per cent annual interest to its minority shareholders. Vishvapradhan subsequently moved SAT, which stayed the Sebi order. Quantum Securities has now moved the apex court against this stay granted by a single member SAT bench.
Quantum had challenged an order passed by SAT dated August 13 on the grounds that the order was passed by a single-member bench of SAT who was a non-judicial member. Rules say appeals filed against regulators such as the Securities and Exchange Board of India (Sebi) in SAT need to be taken up by a bench that consists of aleast one judicial member and one technical member.
In the last hearing, the Supreme Court had pulled up the central government for delay in filling the vacancies in SAT. The apex court had also sent a notice to Attorney General of India seeking response on the matter.
"The composition of the SAT today is not in line with the statutory mandate, which requires both judicial and technical members," said Shruti Rajan, partner, Cyril Amarchand Mangaldas. "The presence of a judicial member is necessary and up until such time that the vacancy is filled, the tribunal will have to play it by the ear and allow for temporary rulings that may then need to be reviewed by the new bench."
If the Supreme Court rules in Quantum's favour, lawyers said others would approach the apex court to appeal against SAT's recent rulings. Last week, SAT had dismissed an appeal by global audit firm Price Waterhouse (PW) against an order by Sebi in the Satyam Computer Services case.
The full-bench strength of SAT is three members. The tribunal is currently running with a single member – CKG Nair since July. Former Presiding Officer and judicial member J P Devadhar had retired from the office in July while another member Jog Singh remitted office in February. Both these positions have remained vacant ever since.
"The Sebi Act was amended last year and it is now required that every bench of SAT so constituted shall include atleast one judicial member and one technical member," said Pavan Kumar Vijay, founder of advisory firm Corporate Professionals. "One of the key challenge for filling up this vacancy in SAT is want of suitable candidate having adequate knowledge of not only securities law now but also extending to matters related to insurance and pension,".
SAT is a quasi-judicial body that takes up appeals pertaining to capital markets, insurance and pensions. The tribunal passes around 200-250 orders every year, a large chunk of which are matters related to capital markets.