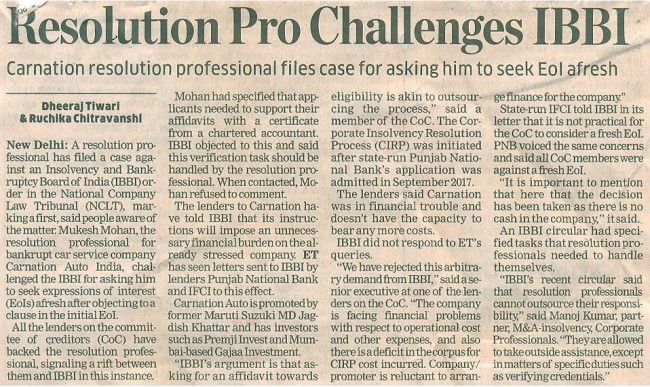 A resolution professional has filed a case against an Insolvency and Bankruptcy Board of India (IBBI) order in the National Company Law Tribunal (NCLT), marking a first, said people aware of the matter. Mukesh Mohan, the resolution professional for bankrupt car service company Carnation Auto India, challenged the IBBI for asking him to seek expressions of interest (EoIs) afresh after objecting to a clause in the initial EoI.
All the lenders on the committee of creditors (CoC) have backed the resolution professional, signaling a rift between them and IBBI in this instance.
Mohan had specified that applicants needed to support their affidavits with a certificate from a chartered accountant. IBBI objected to this and said this verification task should be handled by the resolution professional. When contacted, Mohan refused to comment.
The lenders to Carnation have told IBBI that its instructions will impose an unnecessary financial burden on the already stressed company. ET has seen letters sent to IBBI by lenders Punjab National Bank and IFCI to this effect.
Carnation Auto is promoted by former Maruti Suzuki MD Jagdish Khattar and has investors such as Premji Invest and Mumbai-based Gajaa Investment.
"IBBI's argument is that asking for an affidavit towards eligibility is akin to outsourcing the process," said a member of the CoC. The Corporate Insolvency Resolution Process (CIRP) was initiated after state-run Punjab National Bank's application was admitted in September 2017.
The lenders said Carnation was in financial trouble and doesn't have the capacity to bear any more costs.
IBBI did not respond to ET's queries.
"We have rejected this arbitrary demand from IBBI," said a senior executive at one of the lenders on the CoC. "The company is facing financial problems with respect to operational cost and other expenses, and also there is a deficit in the corpus for CIRP cost incurred. Company/ promoter is reluctant to arrange finance for the company."
State-run IFCI told IBBI in its letter that it is not practical for the CoC to consider a fresh EoI. PNB voiced the same concerns and said all CoC members were against a fresh EoI.
"It is important to mention that here that the decision has been taken as there is no cash in the company," it said.
An IBBI circular had specified tasks that resolution professionals needed to handle themselves.
"IBBI's recent circular said that resolution professionals cannot outsource their responsibility," said Manoj Kumar, partner, M&A-insolvency, Corporate Professionals. "They are allowed to take outside assistance, except in matters of specific duties such as verifying credentials."