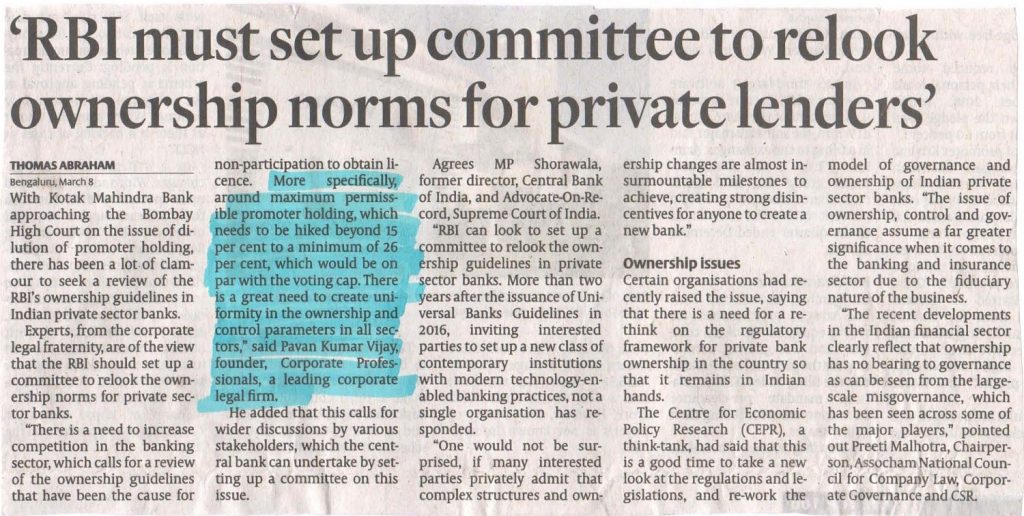 With Kotak Mahindra Bank approaching the Bombay High Court on the issue of dilution of promoter holding, there has been a lot of clamour to seek a review of the RBI's ownership guidelines in Indian private sector banks.
Experts, from the corporate legal fraternity, are of the view that the RBI should set up a committee to relook the ownership norms for private sector banks.
"There is a need to increase competition in the banking sector, which calls for a review of the ownership guidelines that have been the cause for non-participation to obtain licence. More specifically, around maximum permissible promoter holding, which needs to be hiked beyond 15 per cent to a minimum of 26 per cent, which would be on par with the voting cap. There is a great need to create uniformity in the ownership and control parameters in all sectors," said Pavan Kumar Vijay, founder, Corporate Professionals, a leading corporate legal firm.
He added that this calls for wider discussions by various stakeholders, which the central bank can undertake by setting up a committee on this issue.
Agrees MP Shorawala, former director, Central Bank of India, and Advocate-On-Record, Supreme Court of India.
"RBI can look to set up a committee to relook the ownership guidelines in private sector banks. More than two years after the issuance of Universal Banks Guidelines in 2016, inviting interested parties to set up a new class of contemporary institutions with modern technology-enabled banking practices, not a single organisation has responded.
"One would not be surprised, if many interested parties privately admit that complex structures and ownership changes are almost insurmountable milestones to achieve, creating strong disincentives for anyone to create a new bank."
Ownership issues
Certain organisations had recently raised the issue, saying that there is a need for a rethink on the regulatory framework for private bank ownership in the country so that it remains in Indian hands.
The Centre for Economic Policy Research (CEPR), a think-tank, had said that this is a good time to take a new look at the regulations and legislations, and re-work the model of governance and ownership of Indian private sector banks. "The issue of ownership, control and governance assume a far greater significance when it comes to the banking and insurance sector due to the fiduciary nature of the business.
"The recent developments in the Indian financial sector clearly reflect that ownership has no bearing to governance as can be seen from the large-scale misgovernance, which has been seen across some of the major players," pointed out Preeti Malhotra, Chairperson, Assocham National Council for Company Law, Corporate Governance and CSR.