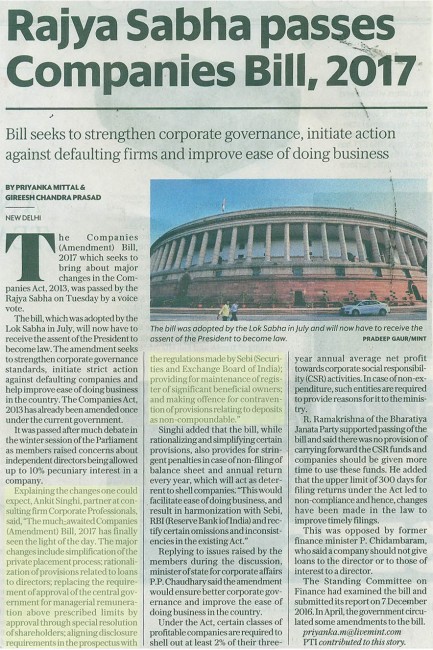 The Companies (Amendment) Bill, 2017 which seeks to bring about major changes in the Companies Act, 2013, was passed by the Rajya Sabha on Tuesday by a voice vote.
The bill, which was adopted by the Lok Sabha in July, will now have to receive the assent of the President to become law. The amendment seeks to strengthen corporate governance standards, initiate strict action against defaulting companies and help improve ease of doing business in the country. The Companies Act, 2013 has already been amended once under the current government.
It was passed after much debate in the winter session of the Parliament as members raised concerns about independent directors being allowed up to 10% pecuniary interest in a company.
Explaining the changes one could expect, Ankit Singhi, partner at consulting firm Corporate Professionals, said, "The much-awaited Companies (Amendment) Bill, 2017 has finally seen the light of the day. The major changes include simplification of the private placement process; rationalization of provisions related to loans to directors; replacing the requirement of approval of the central government for managerial remuneration above prescribed limits by approval through special resolution of shareholders; aligning disclosure requirements in the prospectus with the regulations made by Sebi (Securities and Exchange Board of India); providing for maintenance of register of significant beneficial owners; and making offence for contravention of provisions relating to deposits as non-compoundable."
Singhi added that the bill, while rationalizing and simplifying certain provisions, also provides for stringent penalties in case of non-filing of balance sheet and annual return every year, which will act as deterrent to shell companies. "This would facilitate ease of doing business, and result in harmonization with Sebi, RBI (Reserve Bank iof India) and rectify certain omissions and inconsistencies in the existing Act."
Replying to issues raised by the members during the discussion, minister of state for corporate affairs P.P. Chaudhary said the amendment would ensure better corporate governance and improve the ease of doing business in the country.
Under the Act, certain classes of profitable companies are required to shell out at least 2% of their three-year annual average net profit towards corporate social responsibility (CSR) activities. In case of non-expenditure, such entities are required to provide reasons for it to the ministry.
R. Ramakrishna of the Bharatiya Janata Party supported passing of the bill and said there was no provision of carrying forward the CSR funds and companies should be given more time to use these funds. He added that the upper limit of 300 days for filing returns under the Act led to non-compliance and hence, changes have been made in the law to improve timely filings.
This was opposed by former finance minister P. Chidambaram, who said a company should not give loans to the director or to those of interest to a director.
The Standing Committee on Finance had examined the bill and submitted its report on 7 December 2016. In April, the government circulated some amendments to the bil