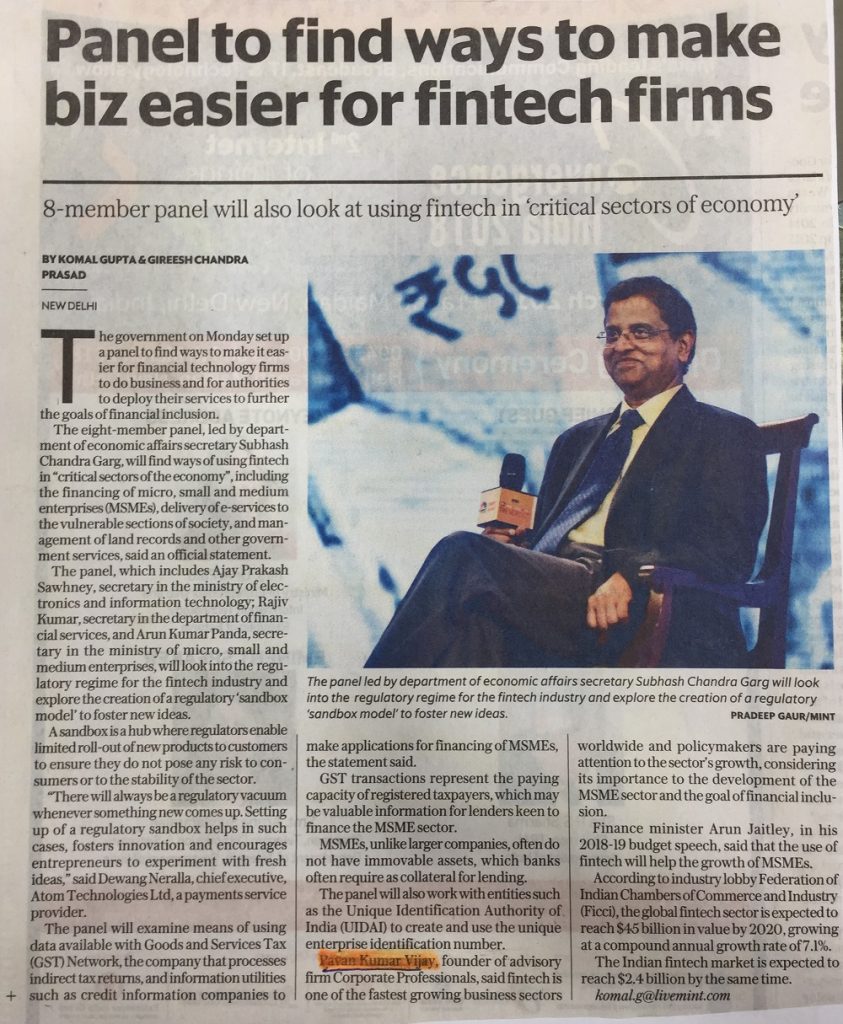 The government on Monday set up a panel to find ways to make it easier for financial technology firms to do business and for authorities to deploy their services to further the goals of financial inclusion.
The eight-member panel, led by department of economic affairs secretary Subhash Chandra Garg, will find ways of using fintech in "critical sectors of the economy", including the financing of micro, small and medium enterprises (MSMEs), delivery of e-services to the vulnerable sections of society, and management of land records and other government services, said an official statement.
The panel, which includes Ajay Prakash Sawhney, secretary in the ministry of electronics and information technology; Rajiv Kumar, secretary in the department of financial services, and Arun Kumar Panda, secretary in the ministry of micro, small and medium enterprises, will look into the regulatory regime for the fintech industry and explore the creation of a regulatory 'sandbox model' to foster new ideas.
A sandbox is a hub where regulators enable limited roll-out of new products to customers to ensure they do not pose any risk to consumers or to the stability of the sector.
"There will always be a regulatory vacuum whenever something new comes up. Setting up of a regulatory sandbox helps in such cases, fosters innovation and encourages entrepreneurs to experiment with fresh ideas," said Dewang Neralla, chief executive, Atom Technologies Ltd, a payments service provider.
The panel will examine means of using data available with Goods and Services Tax (GST) Network, the company that processes indirect tax returns, and information utilities such as credit information companies to make applications for financing of MSMEs, the statement said.
GST transactions represent the paying capacity of registered taxpayers, which may be valuable information for lenders keen to finance the MSME sector.
MSMEs, unlike larger companies, often do not have immovable assets, which banks often require as collateral for lending.
The panel will also work with entities such as the Unique Identification Authority of India (UIDAI) to create and use the unique enterprise identification number.
Pavan Kumar Vijay, founder of advisory firm Corporate Professionals, said fintech is one of the fastest growing business sectors worldwide and policymakers are paying attention to the sector's growth, considering its importance to the development of the MSME sector and the goal of financial inclusion.