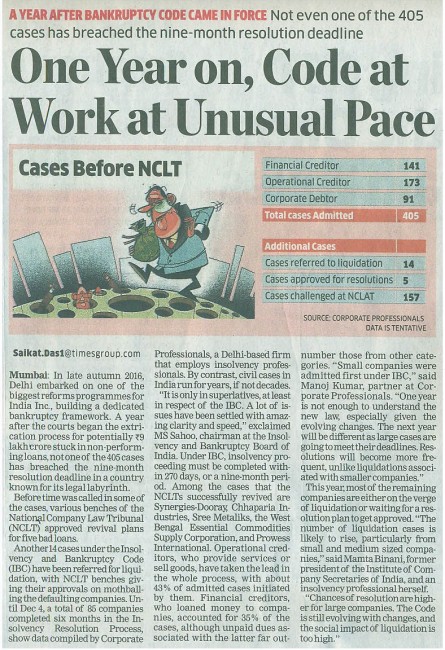 In late autumn 2016, Delhi embarked on one of the biggest reforms programmes for India Inc., building a dedicated bankruptcy framework. A year after the courts began the extrication process for potentially ?9 lakh crore stuck in non-performing loans, not one of the 405 cases has breached the nine-month resolution deadline in a country known for its legal labyrinth.
Before time was called in some of the cases, various benches of the National Company Law Tribunal (NCLT) approved revival plans for five bad loans.
Another 14 cases under the Insolvency and Bankruptcy Code (IBC) have been referred for liquidation, with NCLT benches giving their approvals on mothballing the defaulting companies. Until Dec 4, a total of 85 companies completed six months in the Insolvency Resolution Process, show data compiled by Corporate Professionals, a Delhi-based firm that employs insolvency professionals. By contrast, civil cases in India run for years, if not decades.
"It is only in superlatives, at least in respect of the IBC. A lot of issues have been settled with amazing clarity and speed," exclaimed MS Sahoo, chairman at the Insolvency and Bankruptcy Board of India. Under IBC, insolvency proceeding must be completed within 270 days, or a nine-month period. Among the cases that the NCLTs successfully revived are Synergies-Dooray, Chhaparia Industries, Sree Metaliks, the West Bengal Essential Commodities Supply Corporation, and Prowess International. Operational creditors, who provide services or sell goods, have taken the lead in the whole process, with about 43 per cent of admitted cases initiated by them. Financial creditors, who loaned money to companies, accounted for 35 per cent of the cases, although unpaid dues associated with the latter far outnumber those from other categories. "Small companies were admitted first under IBC," said Manoj Kumar, partner at Corporate Professionals. "One year is not enough to understand the new law, especially given the evolving changes. The next year will be different as large cases are going to meet their deadlines. Resolutions will become more frequent, unlike liquidations associated with smaller companies."
This year, most of the remaining companies are either on the verge of liquidation or waiting for a resolution plan to get approved. "The number of liquidation cases is likely to rise, particularly from small and medium sized companies," said Mamta Binani, former president of the Institute of Company Secretaries of India, and an insolvency professional herself.
"Chances of resolution are higher for large companies. The Code is still evolving with changes, and the social impact of liquidation is too high."