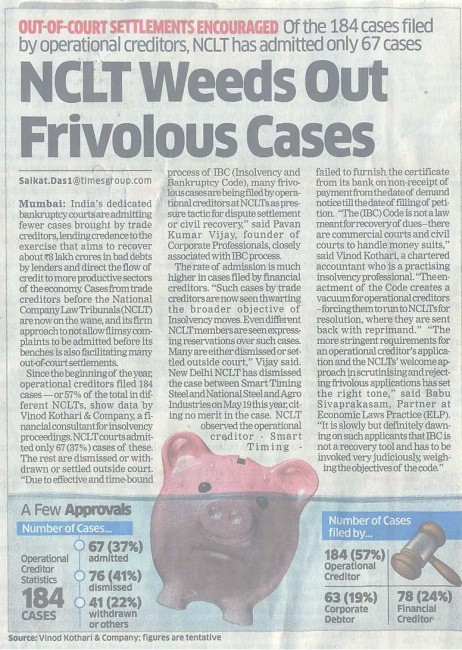 India's dedicated bankruptcy courts are admitting fewer cases brought by trade creditors, lending credence to the exercise that aims to recover about Rs 8 lakh crores in bad debts by lenders and direct the flow of credit to more productive sectors of the economy.
Cases from trade creditors before the National Company Law Tribunals (NCLT) are now on the wane, and its firm approach to not allow flimsy complaints to be admitted before its benches, is also facilitating many out-of-court settlements.
Since the beginning of the year, operational creditors filed 184 cases — or 57 per cent of the total in different NCLTs, show data by Vinod Kothari & Company, a financial consultant for insolvency proceedings. NCLT courts admitted only 67 (37 per cent) cases of these. The rest are dismissed or withdrawn or settled outside court.
"Due to effective and time-bound process of IBC (Insolvency and Bankruptcy Code), many frivolous cases are being filed by operational creditors at NCLTs as pressure tactic for dispute settlement or civil recovery," said Pavan Kumar Vijay, founder of Corporate Professionals, closely associated with IBC process.
The rate of admission is much higher in cases filed by financial creditors. "Such cases by trade creditors are now seen thwarting the broader objective of Insolvency moves. Even different NCLT members are seen expressing reservations over such cases. Many are either dismissed or settled outside court," Vijay said.
New Delhi NCLT has dismissed the case between Smart Timing Steel and National Steel and Agro Industries on May 19 this year, citing no merit in the case. NCLT observed the operational creditor Smart Timing failed to furnish the certificate from its bank on non-receipt of payment from the date of demand notice till the date of filling of petition.
"The (IBC) Code is not a law meant for recovery of dues – there are commercial courts and civil courts to handle money suits," said Vinod Kothari, a chartered accountant who is a practising insolvency professional. "The enactment of the Code creates a vacuum for operational creditors – forcing them to run to NCLTs for resolution, where they are sent back with reprimand."
"The more stringent requirements for an operational creditor's application and the NCLTs' welcome approach in scrutinising and rejecting frivolous applications has set the right tone," said Babu Sivaprakasam, Partner at Economic Laws Practice (ELP). "It is slowly but definitely dawning on such applicants that IBC is not a recovery tool and has to be invoked very judiciously, weighing the objectives of the code."