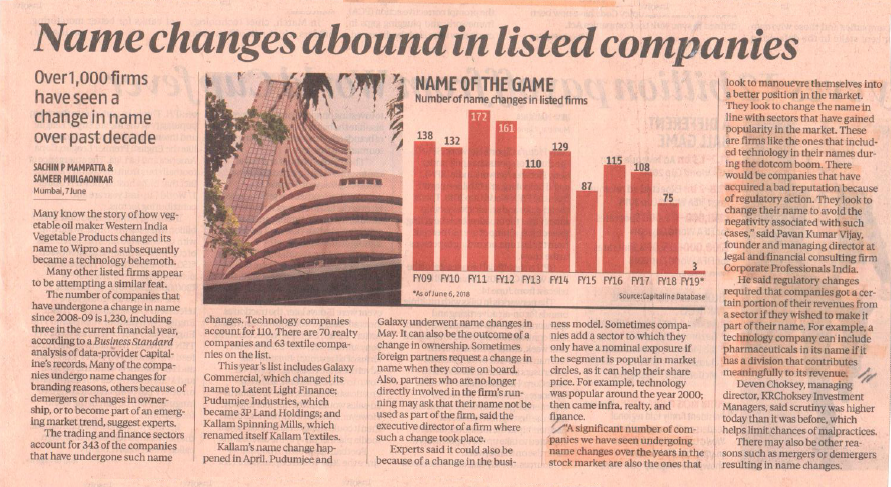 Many know the story of how vegetable oil maker Western India Vegetable Products changed its name to Wipro and subsequently became a technology behemoth.
Many other listed firms appear to be attempting a similar feat.
The number of companies that have undergone a change in name since 2008-09 is 1,230, including three in the current financial year, according to a Business Standard analysis of data-provider Capitaline's records. Many of the companies undergo name changes for branding reasons, others because of demergers or changes in ownership, or to become part of an emerging market trend, suggest experts.
The trading and finance sectors account for 343 of the companies that have undergone such name changes. Technology companies account for 110. There are 70 realty companies and 63 textile companies on the list.
This year's list includes Galaxy Commercial, which changed its name to Latent Light Finance; Pudumjee Industries, which became 3P Land Holdings; and Kallam Spinning Mills, which renamed itself Kallam Textiles.
Kallam's name change happened in April. Pudumjee and Galaxy underwent name changes in May. It can also be the outcome of a change in ownership. Sometimes foreign partners request a change in name when they come on board. Also, partners who are no longer directly involved in the firm's running may ask that their name not be used as part of the firm, said the executive director of a firm where such a change took place.
Experts said it could also be because of a change in the business model. Sometimes companies add a sector to which they only have a nominal exposure if the segment is popular in market circles, as it can help their share price. For example, technology was popular around the year 2000; then came infra, realty, and finance.
"A significant number of companies we have seen undergoing name changes over the years in the stock market are also the ones that look to manouevre themselves into a better position in the market. They look to change the name in line with sectors that have gained popularity in the market. These are firms like the ones that included technology in their names during the dotcom boom. There would be companies that have acquired a bad reputation because of regulatory action. They look to change their name to avoid the negativity associated with such cases," said Pavan Kumar Vijay, founder and managing director at legal and financial consulting firm Corporate Professionals India.
He said regulatory changes required that companies got a certain portion of their revenues from a sector if they wished to make it part of their name. For example, a technology company can include pharmaceuticals in its name if it has a division that contributes meaningfully to its revenue.
Deven Choksey, managing director, KRChoksey Investment Managers, said scrutiny was higher today than it was before, which helps limit chances of malpractices.
There may also be other reasons such as mergers or demergers resulting in name changes.