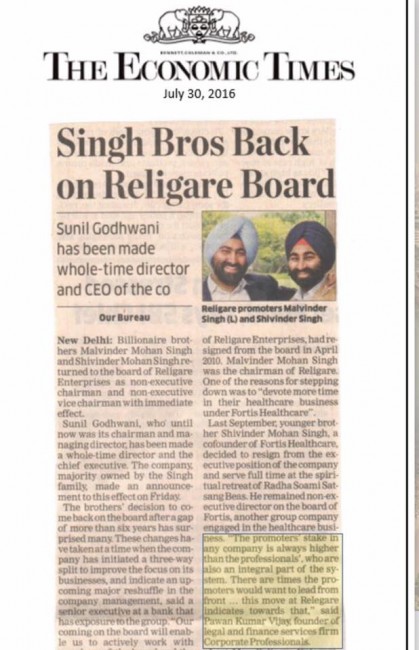 Billionaire brothers Malvinder Mohan Singh and Shivinder Mohan Singh returned to the board of Religare Enterprises as non-executive chairman and non-executive vice chairman with immediate effect.
Sunil Godhwani, who until now was its chairman and managing director, has been made a whole-time director and the chief executive. The company, majority owned by the Singh family, made an announcement to this effect on Friday.
The brothers' decision to come back on the board after a gap of more than six years has surprised many. These changes have taken at a time when the company has initiated a three-way split to improve the focus on its businesses, and indicate an upcoming major reshuffle in the company management, said a senior executive at a bank that has exposure to the group.
"Our coming on the board will enable us to actively work with members of the board and the management of the company to drive the future direction and growth of Religare," Malvinder Mohan Singh told ET.
The brothers, both promoters of Religare Enterprises, had resigned from the board in April 2010. Malvinder Mohan Singh was the chairman of Religare. One of the reasons for stepping down was to "devote more time in their healthcare business under Fortis Healthcare".
Last September, younger brother Shivinder Mohan Singh, a cofounder of Fortis Healthcare, decided to resign from the executive position of the company and serve full time at the spiritual retreat of Radha Soami Satsang Beas. He remained non-executive director on the board of Fortis, another group company engaged in the healthcare business.
"The promoters' stake in any company is always higher than the professionals', who are also an integral part of the system. There are times the promoters would want to lead from front. This move at Religare indicates towards that," said Pawan Kumar Vijay, founder of legal and finance services firm Corporate Professionals.
Last May, Religare Enterprises decided to split into three independently listed entities, to separately handle lending, health insurance and capital markets operations.