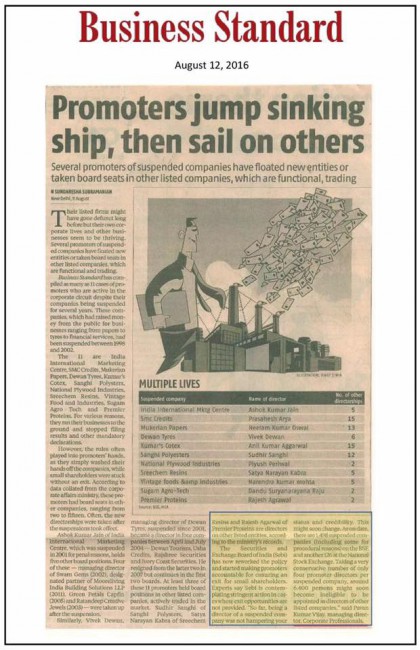 Their listed firms might have gone defunct long before but their own corporate lives and other businesses seem to be thriving. Several promoters of suspended companies have floated new entities or taken board seats in other listed companies, which are functional and trading.
Business Standard has compiled as many as 11 cases of promoters who are active in the corporate circuit despite their companies being suspended for several years. These companies, which had raised money from the public for businesses ranging from papers to tyres to financial services, had been suspended between 1998 and 2002.
The 11 are India International Marketing Centre, SMC Credits, Mukerian Papers, Dewan Tyres, Kumar's Cotex, Sanghi Polysters, National Plywood Industries, Sreechem Resins, Vintage Food and Industries, Sugam Agro Tech and Premier Proteins. For various reasons, they ran their businesses to the ground and stopped filing results and other mandatory declarations.
However, the rules often played into promoters' hands, as they simply washed their hands off the companies, while small shareholders were stuck without an exit. According to data collated from the corporate affairs ministry, these promoters had board seats in other companies, ranging from two to fifteen. Often, the new directorships were taken after the suspensions took effect.
Ashok Kumar Jain of India International Marketing Centre, which was suspended in 2001 for penal reasons, holds five other board positions. Four of these — managing director of Swarn Gems (2002), designated partner of Mooreliving India Building Solutions LLP (2011), Green Petals Capfin (2005) and Ratandeep Creative Jewels (2003) — were taken up after the suspension.
Similarly, Vivek Dewan, managing director of Dewan Tyres, suspended since 2001, became a director in four companies between April and July 2004 — Dewan Tourism, Usha Credits, Rajshree Securities and Ivory Coast Securities. He resigned from the latter two in 2007 but continues in the first two boards. At least three of these 11 promoters held board positions in other listed companies, actively traded in the market. Sudhir Sanghi of Sanghi Polysters, Satya Narayan Kabra of Sreechem Resins and Rajesh Agarwal of Premier Proteins are directors on other listed entities, according to the ministry's records.
The Securities and Exchange Board of India (Sebi) has now reworked the policy and started making promoters accountable for ensuring an exit for small shareholders. Experts say Sebi is contemplating stringent action in cases where exit opportunities are not provided. "So far, being a director of a suspended company was not hampering your status and credibility. This might soon change. As on date, there are 1,498 suspended companies (including some for procedural reasons) on the BSE and another 126 at the National Stock Exchange. Taking a very conservative number of only four promoter-directors per suspended company, around 6,400 persons might soon become ineligible to be appointed as directors of other listed companies," said Pavan Kumar Vijay, managing director, Corporate Professionals.