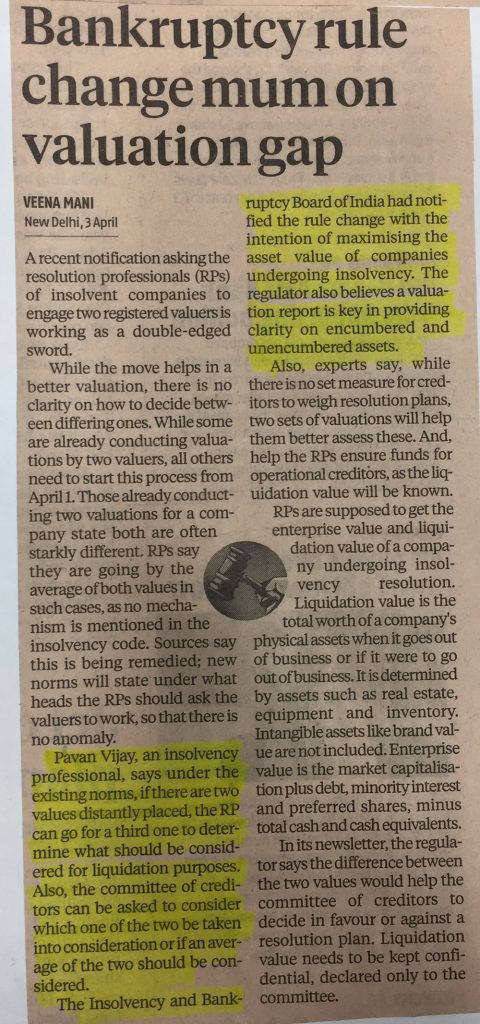 A recent notification asking the resolution professionals (RPs) of insolvent companies to engage two registered valuers is working as a double-edged sword.
While the move helps in a better valuation, there is no clarity on how to decide between differing ones. While some are already conducting valuations by two valuers, all others need to start this process from April 1. Those already conducting two valuations for a company state both are often starkly different. RPs say they are going by the average of both values in such cases, as no mechanism is mentioned in the insolvency code. Sources say this is being remedied; new norms will state under what heads the RPs should ask the valuers to work, so that there is no anomaly.
Pavan Vijay, an insolvency professional, says under the existing norms, if there are two values distantly placed, the RP can go for a third one to determine what should be considered for liquidation purposes. Also, the committee of creditors can be asked to consider which one of the two be taken into consideration or if an average of the two should be considered.
The Insolvency and Bankruptcy Board of India had notified the rule change with the intention of maximising the asset value of companies undergoing insolvency. The regulator also believes a valuation report is key in providing clarity on encumbered and unencumbered assets.
Also, experts say, while there is no set measure for creditors to weigh resolution plans, two sets of valuations will help them better assess these. And, help the RPs ensure funds for operational creditors, as the liquidation value will be known.
RPs are supposed to get the enterprise value and liquidation value of a company undergoing insolvency resolution. Liquidation value is the total worth of a company's physical assets when it goes out of business or if it were to go out of business. It is determined by assets such as real estate, equipment and inventory. Intangible assets like brand value are not included. Enterprise value is the market capitalisation plus debt, minority interest and preferred shares, minus total cash and cash equivalents.
In its newsletter, the regulator says the difference between the two values would help the committee of creditors to decide in favour or against a resolution plan. Liquidation value needs to be kept confidential, declared only to the committee.