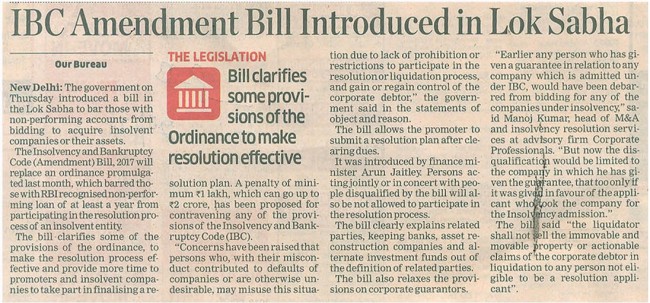 The government on Thursday introduced a bill in the Lok Sabha to bar those with non-performing accounts from bidding to acquire insolvent companies or their assets.
The Insolvency and Bankruptcy Code (Amendment) Bill, 2017 will replace an ordinance promulgated last month, which barred those with RBI recognised non-performing loan of at least a year from participating in the resolution process of an insolvent entity.
The bill clarifies some of the provisions of the ordinance, to make the resolution process effective and provide more time to promoters and insolvent companies to take part in finalising a resolution plan. A penalty of minimum `1 lakh, which can go up to `2 crore, has been proposed for contravening any of the provisions of the Insolvency and Bankruptcy Code (IBC).
"Concerns have been raised that persons who, with their misconduct contributed to defaults of companies or are otherwise undesirable, may misuse this situation due to lack of prohibition or restrictions to participate in the resolution or liquidation process, and gain or regain control of the corporate debtor," the government said in the statements of object and reason.
The bill allows the promoter to submit a resolution plan after clearing dues.
It was introduced by finance minister Arun Jaitley. Persons acting jointly or in concert with people disqualified by the bill will also be not allowed to participate in the resolution process.
The bill clearly explains related parties, keeping banks, asset reconstruction companies and alternate investment funds out of the definition of related parties.
The bill also relaxes the provisions on corporate guarantors.
"Earlier any person who has given a guarantee in relation to any company which is admitted under IBC, would have been debarred from bidding for any of the companies under insolvency," said Manoj Kumar, head of M&A and insolvency resolution services at advisory firm Corporate Professionals. "But now the disqualification would be limited to the company in which he has given the guarantee, that too only if it was given in favour of the applicant who took the company for the Insolvency admission."
The bill said "the liquidator shall not sell the immovable and movable property or actionable claims of the corporate debtor in liquidation to any person not eligible to be a resolution applicant".