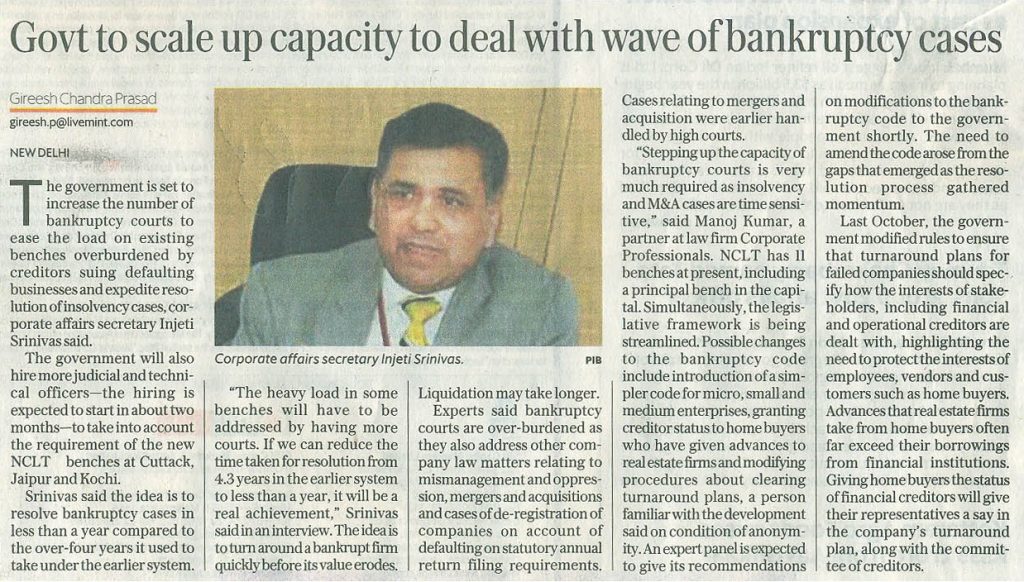 The government is set to increase the number of bankruptcy courts to ease the load on existing benches overburdened by creditors suing defaulting businesses and expedite resolution of insolvency cases, corporate affairs secretary Injeti Srinivas said.
The government will also hire more judicial and technical officers—the hiring is expected to start in about two months—to take into account the requirement of the new NCLT benches at Cuttack, Jaipur and Kochi.
Srinivas said the idea is to resolve bankruptcy cases in less than a year compared to the over-four years it used to take under the earlier system.
"The heavy load in some benches will have to be addressed by having more courts. If we can reduce the time taken for resolution from 4.3 years in the earlier system to less than a year, it will be a real achievement," Srinivas said in an interview. The idea is to turn around a bankrupt firm quickly before its value erodes. Liquidation may take longer.
Experts said bankruptcy courts are over-burdened as they also address other company law matters relating to mismanagement and oppression, mergers and acquisitions and cases of de-registration of companies on account of defaulting on statutory annual return filing requirements. Cases relating to mergers and acquisition were earlier handled by high courts.
"Stepping up the capacity of bankruptcy courts is very much required as insolvency and M&A cases are time sensitive," said Manoj Kumar, a partner at law firm Corporate Professionals. NCLT has 11 benches at present, including a principal bench in the capital. Simultaneously, the legislative framework is being streamlined. Possible changes to the insolvency and bankruptcy code include introduction of a simpler code for micro, small and medium enterprises, granting creditor status to home buyers who have given advances to real estate firms and modifying procedures about clearing turnaround plans, a person familiar with the development said on condition of anonymity. An expert panel is expected to give its recommendations on modifications to the bankruptcy code to the government shortly. The need to amend the code arose from the gaps that emerged as the resolution process gathered momentum.
Last October, the government modified rules to ensure that turnaround plans for failed companies should specify how the interests of stakeholders, including financial and operational creditors are dealt with, highlighting the need to protect the interests of employees, vendors and customers such as home buyers. Advances that real estate firms take from home buyers often far exceed their borrowings from financial institutions. Giving home buyers the status of financial creditors will give their representatives a say in the company's turnaround plan, along with the committee of creditors.
Srinivas said the long-term impact of the insolvency and bankruptcy code's functioning has been salutary. One benefit that has already accrued from the code is that banks are much more thorough in their appraisal of loan applications while businesses are cautious about unsustainable levels of debt, he said.