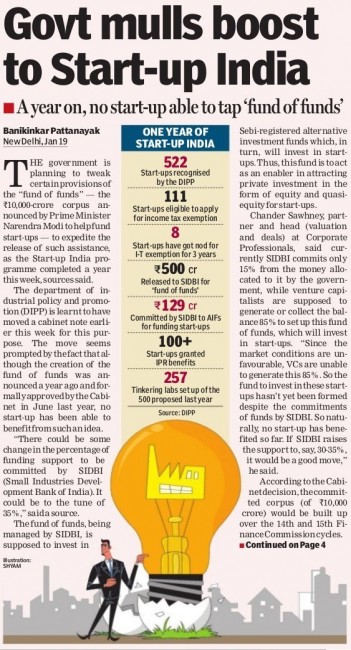 The government isplanning to tweak
certain provisions of
the "fund of funds" — the
Rs. 10,000-crore corpus announced by Prime Minister
Narendra Modi to help fund
start-ups — to expedite the
release of such assistance,
as the Start-up India programme completed a year
this week, sources said.
The department of industrial policy and promotion (DIPP) is learnt to have
moved a cabinet note earlier this week for this purpose. The move seems
prompted by the fact that al-
though the creation of the
fund of funds was announced a year ago and formally approved by the Cabinet in June last year, no
start-up has been able to
benefit from such an idea.
"There could be some
change in the percentage of
funding support to be
committed by SIDBI
(Small Industries Development Bank of India). It
could be to the tune of
35 %, "said a source.
The fund of funds, being managed by SIDBI, is supposed to invest in Sebi-registered alternative investment funds which, in turn, will invest in start-ups. Thus, this fund is to act as an enabler in attracting private investment in the form of equity and quasi- equity for start-ups.
Chander Sawhney partner and head (valuation and deals) at Corporate Professionals, said currency SIDBI commits only 15% from the money allocated to it by the government, while venture capitalists are supposed to generate or collect the balance 85 % to set up this fund of funds, which will invest in start-ups. "Since the market conditions are unfavourable, VCs are unable to generate this 85%. So the fund to invest in these start-ups hasn't yet been formed despite the commitments of funds by SIDBI. So naturally, no start-up has benefited so far. If SIDBI raises the support to, say 30-35%, it would be a good move," he said.
According to the Cabinet decision, the committed corpus (of Rs. 10,000 crore) would be built up over the 14th and 15th Finance Commission cycles.
But this is subject to the progress of the scheme and the availability of funds. The government has already released Rs 500 crore to SIDBI for 2015-16 and Rs 600 crore was earmarked for 2016-17. The fund is expected to generate
1.8 million jobs. Not many start-ups have also benefited from the government's decision to allow income tax exemption for three years to eligible start-ups. According to the latest data, only eight out of 111 start-ups that could be considered for tax exemption have got such relief. However, this has more to do with the lack of adequate innovative nature of start-ups or worthwhile contribution to society at large than lack of the DIPP initiative.
For its part, DIPP has recommended a seven-year tax holiday on profits made by the start-ups.
According to the Finance Act, 2016, start-ups are eligible to get income tax exemption for three years in a block of five years if they are incorporated between April 1,2016, and March 31,2019. To get these benefits, a start-up needs to obtain a certificate of eligibility from the inter-ministerial board of the DIPP.
Given the fact that start-ups hardly make any profits in initial years and most of them even fail, commerce and industry minister Nirmala Sitharaman has been pitching for greater tax support to start-ups. In their meetings with Sitharaman earlier this year, various start-ups had urged her to persuade the finance ministry to raise the period of the tax holiday.