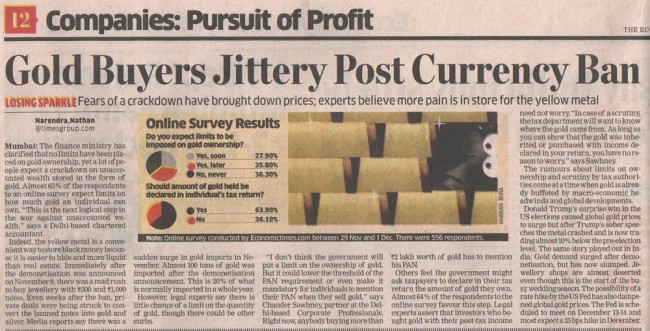 The finance ministry has clarified that no limits have been placed on gold ownership, yet a lot of people expect a crackdown on unaccounted wealth stored in the form of gold.
Almost 63 per cent of the respondents to an online survey expect limits on how much gold an individual can own.
"This is the next logical step in the war against unaccounted wealth," says a Delhi-based chartered accountant. Indeed, the yellow metal is a convenient way to store black money because it is easier to hide and more liquid than real estate.
Immediately after the demonetisation was announced on November 8, there was a mad rush to buy jewellery with Rs 500 and Rs 1,000 notes. Even weeks after the ban, private deals were being struck to convert the banned notes into gold and silver.
Media reports say there was a sudden surge in gold imports in November. Almost 100 tons of gold was imported after the demonetisation announcement.
This is 20 per cent of what is normally imported in a whole year. However, legal experts say there is little chance of a limit on the quantity of gold, though there could be other curbs.
"I don't think the government will put a limit on the ownership of gold. But it could lower the threshold of the PAN requirement or even make it mandatory for individuals to mention their PAN when they sell gold," says Chander Sawhney, partner at the Delhi-based Corporate Professionals.
Right now, anybody buying more than Rs 2 lakh worth of gold has to mention his PAN. Others feel the government might ask taxpayers to declare in their tax return the amount of gold they own.
Almost 64 per cent of the respondents to the online survey favour this step. Legal experts assert that investors who bought gold with their post-tax income need not worry.
"In case of a scrutiny, the tax department will want to know where the gold came from. As long as you can show that the gold was inherited or purchased with income declared in your return, you have no reason to worry," says Sawhney.
The rumours about limits on ownership and scrutiny by tax authorities come at a time when gold is already buffeted by macro-economic headwinds and global developments.
Donald Trump's surprise win in the US elections caused global gold prices to surge but after Trump's sober speeches the metal crashed and is now trading almost 10 per cent below the pre-election level.
The same story played out in India. Gold demand surged after demonetisation, but has now slumped. Jewellery shops are almost deserted even though this is the start of the busy wedding season.
The possibility of a rate hike by the US Fed has also dampened global gold prices. The Fed is scheduled to meet on December 13-14 and most expect a 25 bps hike in December.