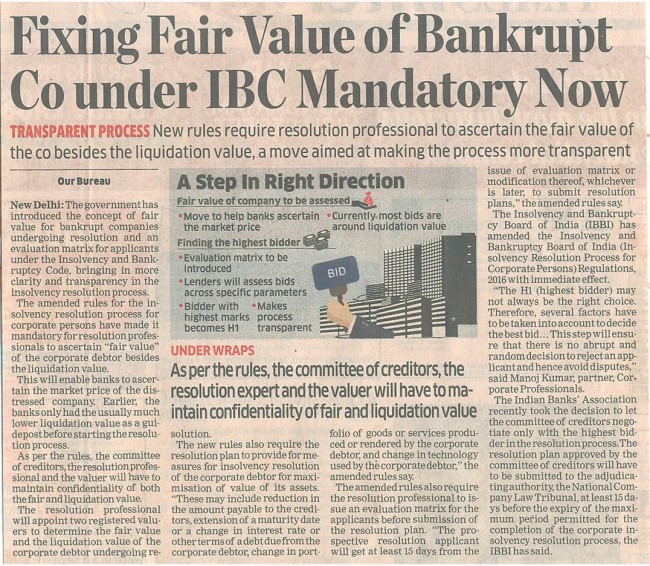 The government has introduced the concept of fair value for bankrupt companies undergoing resolution and an evaluation matrix for applicants under the Insolvency and Bankruptcy Code, bringing in more clarity and transparency in the insolvency resolution process.
The amended rules for the insolvency resolution process for corporate persons have made it mandatory for resolution professionals to ascertain "fair value" of the corporate debtor besides the liquidation value.
This will enable banks to ascertain the market price of the distressed company. Earlier, the banks only had the usually much lower liquidation value as a guidepost before starting the resolution process.
As per the rules, the committee of creditors, the resolution professional and the valuer will have to maintain confidentiality of both the fair and liquidation value.
The resolution professional will appoint two registered valuers to determine the fair value and the liquidation value of the corporate debtor undergoing resolution.
The new rules also require the resolution plan to provide for measures for insolvency resolution of the corporate debtor for maximisation of value of its assets.
"These may include reduction in the amount payable to the creditors, extension of a maturity date or a change in interest rate or other terms of a debt due from the corporate debtor, change in portfolio of goods or services produced or rendered by the corporate debtor, and change in technology used by the corporate debtor," the amended rules say.
The amended rules also require the resolution professional to issue an evaluation matrix for the applicants before submission of the resolution plan. "The prospective resolution applicant will get at least 15 days from the issue of evaluation matrix or modification thereof, whichever is later, to submit resolution plans," the amended rules say.
The Insolvency and Bankruptcy Board of India (IBBI) has amended the Insolvency and Bankruptcy Board of India (Insolvency Resolution Process for Corporate Persons) Regulations, 2016 with immediate effect.
"The H1 (highest bidder) may not always be the right choice. Therefore, several factors have to be taken into account to decide the best bid… This step will ensure that there is no abrupt and random decision to reject an applicant and hence avoid disputes," said Manoj Kumar, partner, Corporate Professionals.
The Indian Banks' Association recently took the decision to let the committee of creditors negotiate only with the highest bidder in the resolution process.The resolution plan approved by the committee of creditors will have to be submitted to the adjudicating authority, the National Company Law Tribunal, at least 15 days before the expiry of the maximum period permitted for the completion of the corporate insolvency resolution process, the IBBI has said.