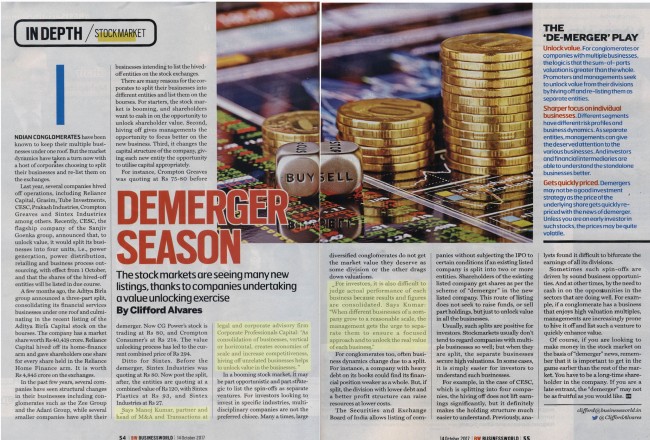 Indian conglomerates have been known to keep their multiple businesses under one roof. But the market dynamics have taken a turn now with a host of corporates choosing to split their businesses and re-list them on the exchanges.
Last year, several companies hived off operations, including Reliance Capital, Grasim, Tube Investments, CESC, Prakash Industries, Crompton Greaves and Sintex Industries among others. Recently, CESC, the flagship company of the Sanjiv Goenka group, announced that, to unlock value, it would split its businesses into four units, i.e., power generation, power distribution, retailing and business process outsourcing, with effect from 1 October, and that the shares of the hived-off entities will be listed in due course.
A few months ago, the Aditya Birla group announced a three-part split, consolidating its financial services businesses under one roof and culminating in the recent listing of the Aditya Birla Capital stock on the bourses. The company has a market share worth Rs 40,419 crore. Reliance Capital hived off its home-finance arm and gave shareholders one share for every share held in the Reliance Home Finance arm. It is worth Rs 4,845 crore on the exchanges.
In the past few years, several companies have seen structural changes in their businesses including conglomerates such as the Zee Group and the Adani Group, while several smaller companies have split their businesses intending to list the hived-off entities on the stock exchanges.
There are many reasons for the corporates to split their businesses into different entities and list them on the bourses. For starters, the stock market is booming, and shareholders want to cash in on the opportunity to unlock shareholder value. Second, hiving off gives managements the opportunity to focus better on the new business. Third, it changes the capital structure of the company, giving each new entity the opportunity to utilise capital appropriately.
For instance, Crompton Greaves was quoting at Rs 75-80 before demerger. Now CG Power's stock is trading at Rs 80, and Crompton Consumer's at Rs 214. The value unlocking process has led to the current combined price of Rs 294.
Ditto for Sintex. Before the demerger, Sintex Industries was quoting at Rs 80. Now post the split, after, the entities are quoting at a combined value of Rs 120, with Sintex Plastics at Rs 93, and Sintex Industries at Rs 27.
Says Manoj Kumar, partner and head of M&A and Transactions at legal and corporate advisory firm Corporate Professionals Capital: "As consolidation of businesses, vertical or horizontal, creates economies of scale and increase competitiveness, hiving off unrelated businesses helps to unlock value in the businesses. "
In a booming stock market, it may be part opportunistic and part strategic to list the spin-offs as separate ventures. For investors looking to invest in specific industries, multi-disciplinary companies are not the preferred chioce. Many a times, large diversified conglomerates do not get the market value they deserve as some division or the other drags down valuations.
For investors, it is also difficult to judge actual performance of each business because results and figures are consolidated. Says Kumar: "When different businesses of a company grow to a reasonable scale, the management gets the urge to separate them to ensure a focused approach and to unlock the real value of each business."
For conglomerates too, often business dynamics change due to a split. For instance, a company with heavy debt on its books could find its financial position weaker as a whole. But, if split, the division with lower debt and a better profit structure can raise resources at lower costs.
The Securities and Exchange Board of India allows listing of companies without subjecting the IPO to certain conditions if an existing listed company is split into two or more entities. Shareholders of the existing listed company get shares as per the scheme of "demerger" in the new listed company. This route of listing does not seek to raise funds, or sell part holdings, but just to unlock value in all the businesses.
Usually, such splits are positive for investors. Stockmarkets usually don't tend to regard companies with multiple businesses so well; but when they are split, the separate businesses secure high valuations. In some cases, it is simply easier for investors to understand such businesses.
For example, in the case of CESC, which is splitting into four companies, the hiving off does not lift earnings significantly, but it definitely makes the holding structure much easier to understand. Previously, analysts found it difficult to bifurcate the earnings of all its divisions.
Sometimes such spin-offs are driven by sound business opportunities. And at other times, by the need to cash in on the opportunities in the sectors that are doing well. For example, if a conglomerate has a business that enjoys high valuation multiples, managements are increasingly prone to hive it off and list such a venture to quickly enhance value.
Of course, if you are looking to make money in the stock market on the basis of "demerger" news, remember that it is important to get in the game earlier than the rest of the market. You have to be a long-time shareholder in the company. If you are a late entrant, the "demerger" may not be as fruitful as you would like.
The 'De-Merger' Play
Unlock value. For conglomerates or companies with multiple businesses, the logic is that the sum-of- parts valuation is greater than the whole. Promoters and managements seek to unlock value from their divisions by hiving off and re-listing them as separate entities.
Sharper focus on individual businesses. Different segments have different risk profiles and business dynamics. As separate entities, managements can give the deserved attention to the various businesses. And investors and financial intermediaries are able to understand the standalone businesses better.
Gets quickly priced. Demergers may not be a good investment strategy as the price of the underlying share gets quickly re-priced with the news of demerger. Unless you are an early investor in such stocks, the prices may be quite volatile.