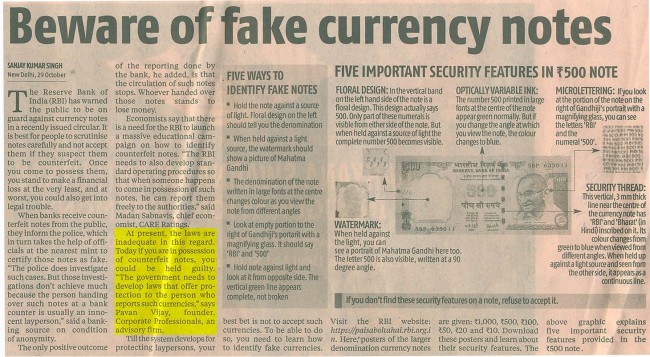 The Reserve Bank of India (RBI) has warned the public to be on guard against currency notes in a recently issued circular. It is best for people to scrutinise notes carefully and not accept them if they suspect them to be counterfeit. Once you come to possess them, you stand to make a financial loss at the very least, and at worst, you could also get into legal trouble.
When banks receive counterfeit notes from the public, they inform the police, which in turn takes the help of officials at the nearest mint to certify those notes as fake. "The police does investigate such cases. But those investigations don't achieve much because the person handing over such notes at a bank counter is usually an innocent layperson," said a banking source on condition of anonymity.
The only positive outcome of the reporting done by the bank, he added, is that the circulation of such notes stops. Whoever handed over those notes stands to lose money.
Economists say that there is a need for the RBI to launch a massive educational campaign on how to identify counterfeit notes. "The RBI needs to also develop standard operating procedures so that when someone happens to come in possession of such notes, he can report them freely to the authorities," said Madan Sabnavis, chief economist, CARE Ratings.
At present, the laws are inadequate in this regard. Today if you are in possession of counterfeit notes, you could be held guilty.
"The government needs to develop laws that offer protection to the person who reports such currencies," says Pavan Vijay, founder, Corporate Professionals, an advisory firm.
Till the system develops for protecting laypersons, your best bet is not to accept such currencies. To be able to do so, you need to learn how to identify fake currencies.
Visit the RBI website: https://paisaboltahai.rbi.org.in. Here, posters of the larger denomination currency notes are given: Rs 1,000, Rs 500, Rs 100, Rs 50, Rs 20 and Rs 10. Download these posters and learn about their security features. The above graphic explains five important security features provided in the Rs 500 note.
Five ways to identify fake notes-
Hold the note against a source of light. Floral design on the left should tell you the denomination
When held against a light source, the watermark should show a picture of Mahatma Gandhi
The denomination of the note written in large fonts at the centre changes colour as you view the note from different angles
Look at empty portion to the right of Gandhiji's portarit with a magnifying glass. It should say 'RBI' and '500'
Hold note against light and look at it from opposite side. The vertical green line appears complete, not broken