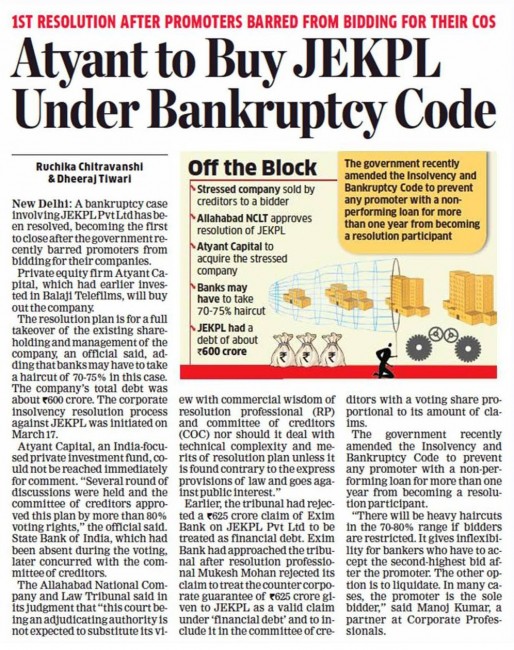 A bankruptcy case involving JEKPL Pvt Ltd has been resolved, becoming the first to close after the government recently barred promoters from bidding for their companies. Private equity firm Atyant Capital, which had earlier invested in Balaji Telefilms, will buy out the company.
The resolution plan is for a full takeover of the existing shareholding and management of the company, an official said, adding that banks may have to take a haircut of 70-75% in this case. The company's total debt was about Rs 600 crore. The corporate insolvency resolution process against JEKPL was initiated on March 17.
Atyant Capital, an India-focused private investment fund, could not be reached immediately for comment. "Several round of discussions were held and the committee of creditors approved this plan by more than 80% voting rights," the official said. State Bank of India, which had been absent during the voting, later concurred with the committee of creditors.
The Allahabad National Company and Law Tribunal said in its judgment that "this court being an adjudicating authority is not expected to substitute its view with commercial wisdom of resolution professional (RP) and committee of creditors (COC) nor should it deal with technical complexity and merits of resolution plan unless it is found contrary to the express provisions of law and goes against public interest."
Earlier, the tribunal had rejected a Rs 625 crore claim of Exim Bank on JEKPL Pvt Ltd to be treated as financial debt. Exim Bank had approached the tribunal after resolution professional Mukesh Mohan rejected its claim to treat the counter corporate guarantee of Rs 625 crore given to JEKPL as a valid claim under 'financial debt' and to include it in the committee of creditors with a voting share proportional to its amount of claims.
The government recently amended the Insolvency and Bankruptcy Code to prevent any promoter with a non-performing loan for more than one year from becoming a resolution participant.
"There will be heavy haircuts in the 70-80% range if bidders are restricted. It gives inflexibility for bankers who have to accept the second-highest bid after the promoter. The other option is to liquidate. In many cases, the promoter is the sole bidder," said Manoj Kumar, a partner at Corporate Professionals.