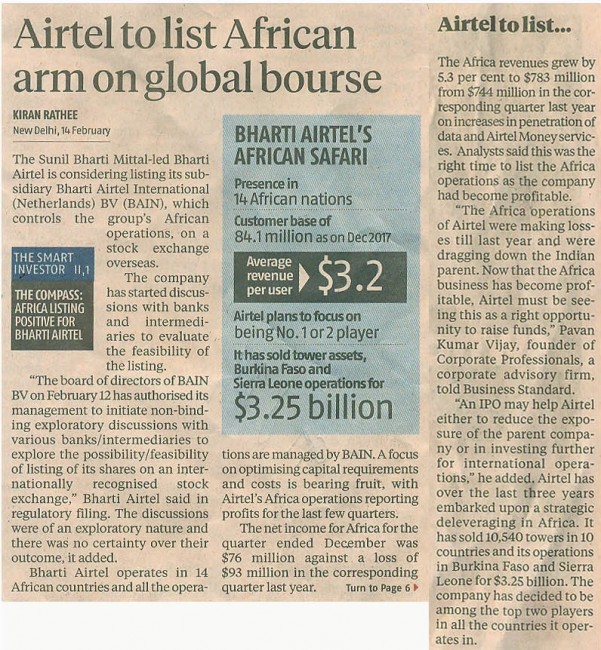 The Sunil Bharti Mittal-led Bharti Airtel is considering listing its subsidiary Bharti Airtel International (Netherlands) BV (BAIN), which controls the group's African operations, on a stock exchange overseas.
The company has started discussions with banks and intermediaries to evaluate the feasibility of the listing.
"The board of directors of BAIN BV on February 12 has authorised its management to initiate non-binding exploratory discussions with various banks/intermediaries to explore the possibility/feasibility of listing of its shares on an internationally recognised stock exchange," Bharti Airtel said in regulatory filing. The discussions were of an exploratory nature and there was no certainty over their outcome, it added.
Bharti Airtel operates in 14 African countries and all the operations are managed by BAIN. A focus on optimising capital requirements and costs is bearing fruit, with Airtel's Africa operations reporting profits for the last few quarters.
The net income for Africa for the quarter ended December was $76 million against a loss of $93 million in the corresponding quarter last year.
The Africa revenues grew by 5.3 per cent to $783 million from $744 million in the corresponding quarter last year on increases in penetration of data and Airtel Money services. Analysts said this was the right time to list the Africa operations as the company had become profitable.
"The Africa operations of Airtel were making losses till last year and were dragging down the Indian parent. Now that the Africa business has become profitable, Airtel must be seeing this as a right opportunity to raise funds," Pavan Kumar Vijay, founder of Corporate Professionals, a corporate advisory firm, told Business Standard.
"An IPO may help Airtel either to reduce the exposure of the parent company or in investing further for international operations," he added. Airtel has over the last three years embarked upon a strategic deleveraging in Africa. It has sold 10,540 towers in 10 countries and its operations in Burkina Faso and Sierra Leone for $3.25 billion. The company has decided to be among the top two players in all the countries it operates in.
Analysts said by listing, Airtel was also likely to improve the ratio of its enterprise value to its earnings before interest, taxes, depreciation and amortisation (EBITDA). Airtel's EV/EBITDA ratio is in the range of 5 but after listing, it may climb to 7-9. The EV/EBITDA ratio is a crucial important parameter in determining the value of the company. Acquirers look at this ratio to know if a company is undervalued or overvalued.
With Africa turning profitable, Airtel is expecting a better valuation after listing.
The company offers 3G services and Airtel Money in 14 African countries and 4G services in four. As on December 31, 2017, the company reported 84.13 million customers in Africa.