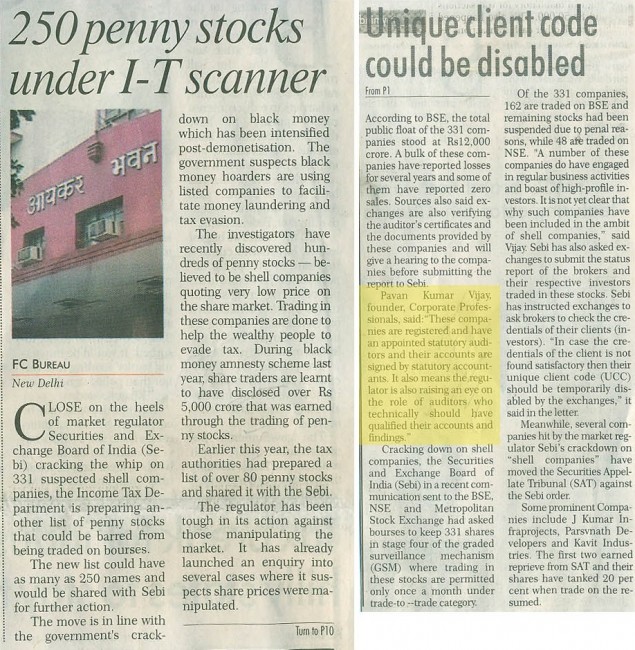 Close on the heels of market regulator Securities and Exchange Board of India (Sebi) cracking the whip on 331 suspected shell companies, the Income Tax Department is preparing another list of penny stocks that could be barred from being traded on bourses.
The new list could have as many as 250 names and would be shared with Sebi for further action.
The move is in line with the government's crackdown on black money which has been intensified post-demonetisation. The government suspects black money hoarders are using listed companies to facilitate money laundering and tax evasion.
The investigators have recently discovered hundreds of penny stocks — believed to be shell companies quoting very low price on the share market. Trading in these companies are done to help the wealthy people to evade tax. During black money amnesty scheme last year, share traders are learnt to have disclosed over Rs 5,000 crore that was earned through the trading of penny stocks.
Earlier this year, the tax authorities had prepared a list of over 80 penny stocks and shared it with the Sebi.
The regulator has been tough in its action against those manipulating the market. It has already launched an enquiry into several cases where it suspects share prices were manipulated.
According to BSE. the total public float of the 331 companies stood at Rs 12,000 crore. A bulk of these com¬panies have reported losses for several years and some of them have reported zero sales. Sources also said exchanges arc also verifying the auditor's certificates and the documents provided by these companies and will give a hearing to the companies before submitting the report to Sebi.
Pavan Kumar Vijay; founder, Corporate Professionals, said: "These compa¬nies are registered and have an ap|K)intcd statutory auditors and their accounts are signed by statutory account¬ants. It also means the regulator is also raising an eye on the role of auditors who technically should have qualified their accounts and findings."
Cracking down on shell companies, the Securities and Exchange Board of India (Sebi) in a recent com¬munication sent to the BSE, NSE and Metropolitan Stock Exchange had asked bourses to keep 331 shares in stage four of the graded surveillance mechanism (GSM) where trading in these siocks are permitted only once a month under trade-to -trade category. Of the 331 companies, 162 are traded on BSE and remaining stocks had been suspended due to penal reasons, while 48 arc traded on NSE. "A number of these companies do have engaged in regular business activities and boast of high-profile investors. It is not yet clear that why such companies have been included in the ambit of shell companies," said Vijay. Sebi has also asked exchanges to submit the status report of the brokers and their respective investors traded in these stocks. Sebi has instructed exchanges to ask brokers to check the credentials of their clients (investors). "In case the credentials of the client is not found satisfactory then their unique client code (UCC) should be temporarily disabled by the exchanges," it said in the letter.
Meanwhile, several companies hit by the market regulator Sebi's crackdown on "shell companies" have moved the Securities Apellate Tribunal (SAT) against the Sebi order.
Some prominent Companies include J Kumar Infraprojects, Parsvnath Developers and Kavit Industries. The first two earned reprieve from SAT and their shares have tanked 20 per cent when trade on the resumed.