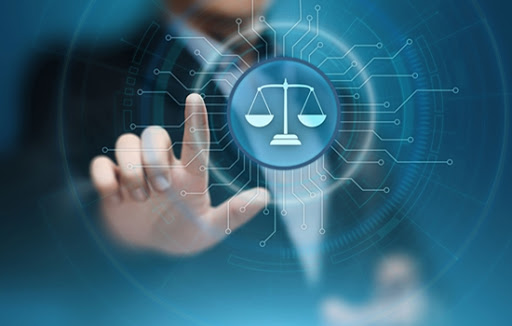 If it had not been for the Technology, we would have been gawking at the unprecedented crisis – Coronavirus.
When the pandemic hit us, our courts (the formidable guardians of the rights of our people) swiftly adapted and responded with several prophylactic measures. Take for instance, enlarging the access to justice amidst this catastrophe, through e-pleadings & video conferencing. A fair share of credit, for that, also goes to Technology.
Wait!!! before you assume that this is about video-conferencing and e-filing in courts. There's a caveat, that's only the tip of the Iceberg! (And ofcourse we know you have seen that, many a times).
We are talking about the 9/10th that remains submerged, and is set to pervade entire Legal Eco-system.
So, let's take a quick tour, starting with—
Courts & Technology
Pendency of cases before Indian courts has surpassed enormous 3.2 Crores. That's not only a huge number of pending cases, but an intense reflection of litigants' despair.
Though we resorted to remote filings & hearings to combat corona, but the first-hand experience speaks abundantly about the potential that technology possesses to make justice more accessible, effective, inclusive and speedy.
Lawyers and judges, a posse, which looked at technology, reticently (conventionally), have reverberated in favour of integrating advance technology with justice delivery system.
S.A. Bobde, the Chief Justice of India was quoted saying that "We went for video conferencing to reduce the footfall in court premises we have to change according to the need of the times. This e-filing module will make access to justice simple and inclusive through inexpensive system. There is no looking back. We will have to change the mindset regarding the way we look at Court proceedings."
"Let us take lockdown as an opportunity to make digital systems in justice delivery more robust" Shri Ravi Shankar Prasad, the Union Minister for Law and Justice, commented on the issue.
Setting the roadmap, Justice DY Chandrachud, rightly points-out three fundamental principles on which, the interface between technology and the Judicial Process should be based—
Technology that enhances justice to the common citizen.
Technology as an intrinsic element of the rule of law.
Justice not just as a sovereign function but as a service that is provided to the community.
Issuance of guidelines by Supreme Court1 and those by High Courts across country, inter-alia, providing for participation of public in hearings, procedure for arrangements, service of summons, examination of persons, judicial remand, framing of charge, examination of accused persons and providing video conferencing arrangements in remote points/areas where such facilities are not available, are significant headways, and if all goes well (may it indeed go well), then the following could be looming realities —
Virtual Courts will result into faster system driven adjudication in less complicated/petty matters. This would also enable video streaming to allow far-away and incarcerated persons to virtually visit with their families and to participate in court hearings
Automatized court room record management would enable quicker, accurate, and structured retrieval of historical data, management of case files, listing of cases, transfer of cases and monitoring of pendency.
Connected digital data gateways would completely overhaul the information exchange with different authorities/ regulators and distant production/examination of litigants and witnesses through video conferencing. This would pace-up research, adjudication and enhance the over-all quality of decision-making process.
Digital Pleadings would empower dynamic presentation of cases than was possible using traditional methods.
Open Court Hearings would enable members of public to attend/watch the live conduct of cases of public importance, enhancing transparency and trust in justice system.
User oriented mobile judicial interface would extend the power of automation to lawyers, litigants via analytics enabled Court's interface.
Legislature & Technology
The Parliament of India and the State Legislatures generate voluminous amount of data in the form of bills, laws, research documents and so on.
With the advent of Artificial Intelligence and technology in law making, a robust legislative system can be developed to collate, analyze, process date and communicate valuable information.
A data-oriented approach can be adopted to automatize the process. Few ways that this can be done are:
Tracking of Law making will enable the members to keep a tab on the formulation of new laws, statutes. It would provide a real time status to the members.
Analytics enabled Impact Assessment to analyse the qualitative and quantitative effect of not only new legislations, amendments but also the existing laws. The criteria for analysis can be the fulfilment of the objective of the enactments and the need of the society.
Speech Recognition to automate the process of conversion of voice to text for recording of Question & Answer and easy and quick report generation of the session.
Opinion Mining by creating a poll can enable citizens to express their views/comments regarding passing of a certain law. The extraction of opinions will also enable general public/stakeholders to participate in the ongoing debates.
By enacting pro technology laws, the Parliament, in turn, can build and boost the technological advancements and at the same-time set safeguards.
The Parliament of South Africa, US House of Representatives have been using technology, more so artificial intelligence, to modify their function and encourage citizen participation. Seeing the developments and improving demographic characteristics of India, advance technology can easily be adopted in the Parliamentary function.
Legal Profession & Technology
Stoppage inflicted by Covid-19 has immensely impacted businesses and society. Legal profession does not have an antidote, to remain unaffected.
Businesses, particularly, have already lost a lot of time and opportunities. And as they eye toward a U, V or even W shape recovery, they will have lesser patience for the delays in the legal process, and would prefer automated, integrated and client-centric services that save them time and resources.
Mckinsey estimates that 23% of work done by Lawyers can be automated by Technology. Other experts even say that the scale of automation may go upto substantial 39%. In fact, legal leaders have already started working on that to stay ahead of the curve.
Here are a few ways in which the Technology would pervade into Legal Profession—
Remote working has already changed (and would continue to change) the way lawyers work; physical meetings, negotiations and court appearances would be replaced by telecommuting and e-delivery of services.
Novel client-attorney culture would be nurtured by transformational technologies. Attorneys can protect the confidential data of clients from cyber security threats. At the same times, innovative and integrated multidisciplinary solutions with client centric delivery can earn value. Clients can get real time data and also, track matters.
Adoption of Technologies by businesses such as Blockchain, Cloud, Artificial Intelligence, will change (or may eliminate) the jobs traditionally done by legal professionals, and will give birth to new responsibility areas/jobs demanding new skill sets.
Geographical boundaries would vanish; horizons of legal practice would expand like never before.
Machine enabled Law firms would emerge, archaic law firm business models would undergo a rejig. It would alter the roles especially at associate and levels below in terms of standardised drafting, ease of research, automatised billing, close monitoring of actual time spent on the case and so forth.
AI based Prediction models can assist in analyzing the outcome of court cases by making use of data mining and machine learning.
Legal Tech may become one of the core skills for lawyers, and tech deftness would boost their advancement toward success.
Integration of Synergies would result from adoption of technology; Corporate Legal Departments and Law firms would work more closely than they did traditionally.
New Laws, rights, liabilities and regulatory framework would emerge on account of technological change, these will open up new practice areas.
Legal Education and Technology
Getting into a top law school, taking internships one after another and enrolling with the bar; conventionally, this has been the path on which aspirants marched onward.
But now, the legal education would also not remain immune of the Tectonic shift. In the last couple of years, we have evidenced the growing demand and credibility of online courses amongst students as well as professionals.
Here's how Technology would forge the Legal Education—
Wider reach of professional institutions, law schools via e-infrastructure, real-estate may gradually lose its dominant importance for Educational Institutions (this could even be true for the entire professional services industry).
Distance Learning courses, Massive Open Online Courses and workshops would flip the class room teaching approach.
Online internships would offer a completely different scale of opportunities thus imparting practical knowledge at home.
Access to Open Court Hearings can add immensely to the legal aptitude, skills. Witnessing the arguments led by legal leaders and dialogue between bench, will ignite new minds and rear even better future legal force.
Legal education would gain demand not only amongst aspirants who want to obtain bar license and practice, but also amongst allied legal professionals and others who want tryst with law.
New education programmes, blended learning and training methodology would emerge on account of changing aspects of the legal practice. Students would be nurtured and trained to be Techno-Legal.
Opening of unconventional opportunities. Integration of Technology with legal education would bring greater diversity in available career options.
Education has open heartedly welcomed technology in its arena. Digital/ smart classes have already been started for schools. It will not be too far till it is adapted in higher studies.
Conclusion
While the extent to which, as well as, the time by when, transfiguration will occur is being widely speculated (often with scepticism). This, however, should not be that great a concern.
Just rewind a little, you would find that, technological advancements have always been a subject of great doubts (and rejections) even from the people of eminence.
Take for example, Computer. During the period of innovation of computers, thousands of jobs were predicted to be lost causing the unemployment rates to shoot up. But how did that situation pan out? Computer created millions more jobs than it eliminated.
The case of Telephones or even Photocopying Machines are no different—
Western Union internal memo dated 1876 mentioned, "This 'telephone' has too many shortcomings to be seriously considered as a means of communication. The device is inherently of no value to us."
Between 1939 and 1944 over 20 companies rejected the idea of photocopying a document calling it 'useless'.
While the history is replete with examples like above. We are the living witnesses (in fact! beneficiaries) of great revolution and impact that these technologies have brought.
There is no denial (and there cannot be a reasonable one) that the legal ecosystem is propelled to approach a gargantuan intersection, the next steps we take are going to be crucial. Equally important is to realise that the impact of inaction would, at least, be tragic.
The time requires us to together welcome the change at the forefront, rise above with it and not to get sunk.
1 A Step by Step Guide for e-filing (For High courts & District Courts of India) Circulated by e-committee, SC, May 2020